Post by Trish Ann Giovanni on May 26, 2014 5:38:05 GMT -4
|| Trish Ann Giovanni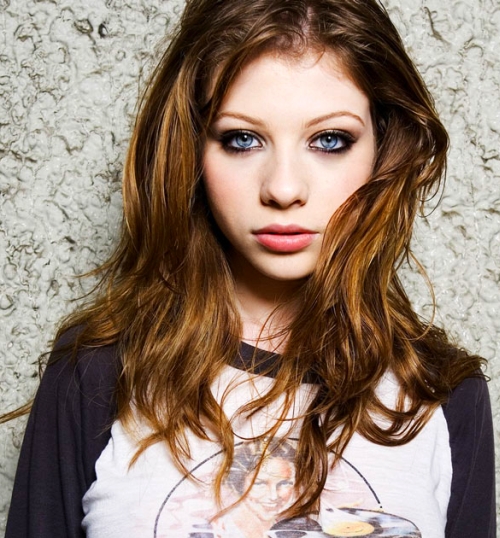 PB:
Michelle Trachtenberg.
|| My name is
Slayer.
|| I am
20
years old.
|| I also play
Kate Giovanni.
|| I found the site through
Proboards Support Forum.
|| The best way to contact me is through
E-mail and PMs work.
|| I have been role playing for
Around 7 years. Maybe 6 and a half, I can't tell.
years and I am
literate.
|| The password is
Modified~
- - - - - - - - - - -
||
FULL NAME:
Trish Giovanni.
||
ALIAS:
None, she's just Trish.
||
AGE:
17.
||
RACE:
Human.
||
HUMAN STATUS:
Rogue.
||
ABILITY:
N/A.
||
GENDER:
Female.
||
WEAPONS OF CHOICE:
Trish has a slightly modified .357 revolver she keeps hidden in her jacket at all times to take care of anything from mid to long range, provided she has the ammo to use for it. For up close, she has a bat with nails adorning the top of it. It's light enough to not hinder her movement, and tough enough to take out any human or undead close enough to her. Trish's most effective weapon is her mind. Outsmarting someone or planning traps come naturally, so she utilizes this to keep her and her sister out of trouble. Her photographic memory makes it easy to notice anything out of the ordinary. Trish also has the uncanny ability to mimic anything she sees, such as seeing someone take apart a rifle. For her, it's just simple observation. Trish learned how to handle a gun by observing Kate doing exactly that. But it's never immediate, and nothing can replace the real thing. The real experience. Which can make it fairly useless.
||
PERSONALITY:
Trish is the type of person that could be in a room and be quiet enough that no one would notice. She doesn't talk unless she has something useful to say. Or if someone is directly talking to her. She often finds herself lost in thought during times of inactivity. Other than Kate, her only constant companion has been a journal she carries with her everywhere she goes. The journal is her only real friend. The only one she can speak freely to. When she isn't surviving day by day, she's either writing her thoughts or reading any books she finds on her and Kate's journeys. Trish likes to be ignored, staying away from people and being alone. The only person who's constant company she can stand is her sister. Mostly because she's gotten used to it than preference.

Trish has gotten used to everything her life has become. Constantly moving from one place to another for any chance of safety. She tries her hardest not to think of any place as home, or to even bond with other survivors. To her, they will either die or both her and Kate will leave soon. She's cynical, realizing people only look out for themselves. Or their own little "group".

Trish has a photographic memory, which has made it very hard to forget things. Things like seeing dead bodies or rooms filled with corpses torn apart by psychotic people who had taken advantage of the chaos in the streets. Every moment is an almost eternal memory, which doesn't bode well for her sanity. She doesn't like being alone in the quiet. In absolute dead silence, Trish's mind starts to play tricks on her. Hearing her long dead friend's voice calling out to her, or her mother's disembodied voice singing to her quietly. Burying her face in a book or writing and quietly mouthing what she writes calms her down, making the quiet seem easier to handle.
||
HISTORY:
Trish's life wasn't exactly picture perfect. She lived in a small, cramped apartment for most of her life. Her family consisted of her brother, mother, and father. She never saw her father much, he was always out working. Two jobs, to her understanding. When he was home, he was sleeping. Her mother had a full time job taking care of Trish and her brother. Devin, her brother, had gotten hurt when he was younger. It made life difficult for him. Trish didn't understand something was wrong, she was young and to her it was completely normal. That was her brother, after all.

Ever since she was young, she was treated special. By her mother, brother, and father. Being praised for every single good thing. Then, later in life, by school. Special classes, different from the other children her age. Sometimes they were a grade above. "Gifted" or whatever they were called. Whether she liked making her parents happy, or actually got satisfaction from succeeding, but she constantly did just that.

But a lot of the praise came to an end rather early in life. As soon as the praise happened, her life was in constant turmoil. Constant conflict. When she was in second grade, her brother had some sort of medical complication. She got pulled out of school by her mother and stayed out for about a week after. It was her first experience with death. Trish and her mother were in the hospital when it happened. She never really got over it. Her brother was just gone. Without so much as a goodbye. Trish didn't even have a chance to say goodbye, he was cremated. Saying goodbye to a vase wasn't the same.

Her father took it the hardest, he started to drink. A lot. Her mom took it pretty hard too, but eventually tried to act as if everything was fine. She'd have fits of coughing or vomiting. Sometimes Trish would see her father passed out on the couch, and her mother would be crying in the bathroom. She tried even harder in school, thinking it would help. It didn't. It never did. She came home one day to her crying mother. She said that "Daddy had to go away." Maybe she was trying to protect her. But her father never came home from work after that. Trish thought it was her fault, everything happening in her life. God punishing her. She didn't know what for, but he wasn't finished. He wouldn't ever be finished. Another punishment happened after. Her mother had to go to the hospital.

It was painful seeing the last person in her family pray for her. Her mom never prayed. Now she was doing it every night, every morning. For Trish. Not for herself. Trish tried praying for her mom, but it didn't work. Maybe God felt like her prayers weren't worthy enough, because God sent someone for Trish, instead of her mother. A sister she never met. Someone never knew. The woman burst in while Trish sat with her mother in the ER. Her mother shooed Trish out to speak with the woman. But Trish watched through the window. Watching the crying, trying to read their lips and failing miserably. The woman introduced herself as Kate. She had blonde hair, like their mom. That was the only logical attachment Trish could apply after learning that was her sister.

Trish didn't see her mom again after that. They stayed in New York, in a hotel room that was a lot bigger than her home. She never saw her home again. Kate took Trish away, living with a man who said he was Kate's dad. Trish didn't question. She never really talked much. There was nothing to say.

When Kate put her back in school, Trish tried to do well. It was the only thing she was good at. Kate liked to call her a genius. Smart. Brilliant. Compliments that meant very little to Trish. Kate always tried talking to Trish. Being friendly, buying her dolls or books. Trish liked the books, something to pass the time. Kate liked to impose a lot of rules on Trish. No TV past 5. No boys. Do homework as soon as you got home. Things Trish already did.

Trish was getting prepared for a spelling bee when Kate pulled her out of school. It became very clear why, when Trish saw how people were acting. How people were hurting other people. It had been on the news, but nothing this bad. The streets were bloodied. People being hurt. Killed. Trish didn't really understand what was going on. Kate left the radio on as she went from place to place, the story constantly changing. Sometimes it was a radioactive monkey. Sometimes it was a haywire virus. The one that made the most sense to Trish was when they had a man on the radio. For an interview. This was before the silence. He was talking about how Hell was overflowing. As a people, we had sinned. "When there is no more room in hell, the dead will walk the earth." It made as much sense as any. And Trish had years to think of the various causes, reasons for this ungodly apocalypse. It was the more logical answer.

All Kate ever did was worry about Trish. Constantly looking for somewhere to keep her safe. Chasing rumor after rumor. Almost obsessively. Despite being a police officer, she managed to break an impressive amount of laws. Stealing whatever she could, killing, trespassing. It was always a dead end. For some time, they travelled by car. Moving from place to place. The radio was their only connection to what was going on. It was always the same. News station after news station repeating the same things. Either mentioning staying indoors, or listing off these places the newscasters nicknamed "Survivor centers". Kate and Trish had travelled to all of them. Every single one that was listed. Some were abandoned. Some were filled with the undead. The actual radio stations didn't last too long. Soon they all went out.

Kate would constantly flip through the static, hoping for something. Anything. One day, she got what she asked for. They were driving outside of a small rural town. There was a repeated broadcast on one of the stations. Directions to an old farmhouse that was, according to the broadcast, the last safe place on earth. Kate had been going on no sleep for two days, and believed every word of it. The directions led right to an old farmhouse, just as the radio had predicted. Even in her sleep deprived state, Kate wasn't stupid enough to drive up without any proof of what was inside. She parked about a mile down the road, pulling out an old pair of binoculars to get a view of the place. Even from the distance they were, the lights inside the farmhouse were visible. Kate questioned going inside for an hour. Looking through the binoculars constantly in between battling her need to sleep. Trish stayed in the passenger seat, scoping out the area for anything out of the ordinary.

They had been sitting in the dark for three hours when Trish caught a glimpse of something. The barn doors of the farmhouse had been thrown open. An injured man had started limping out, in obvious pain. He didn't get far before a man adorned in blood calmly walked out and hit him in the back of a head with a stick of wood. He took a bite from the neck of the man before resuming his calm demeanor and pulling the man back into the barn. Kate turned off the radio after that.

Before they could leave the city, their car had broken down. Ditching the non-essentials, they set off in a path leading to nowhere. They never really knew where they were going. In their travels, they met a fair amount of survivors. From one who tried to kill them, to friendly ones that stayed as far away as possible. The most recent was a trader. Someone who traded Kate. Food for information. Kate wasn't one to listen to obviously false information. But mention of a very familiar city had given Kate some hope. The most recent wild goose chase was a fortress in New York. Some shady man had given them directions, leading to what he referred to as a bastion of humanity. It's name was "Safe Haven".
||
RP SAMPLE:
One quick shot. It was simple enough. Why was she doubting it? What was the point of all this? Just bring the barrel to the temple and pull. It would be painless. She wouldn't feel a thing. She wouldn't become one of them. It was the easiest way out. Looking at the revolver, it was weathered and worn. It had been though this before. She found it in the hands of a long dead man, someone who had the same idea. Everything he had ever known, ever thought, it was all sprawled on the wall. His life story written in brain matter splattered all over the room. She could feel the same release. A release from the torment of living each day in a personal hell. The silence taunted her. "Do it." Over and over. Even they agree. It would be over with in a second. She'd be long dead. Gone forever, with only her bodily remains being left behind. Just pull the trigger. Just end it all. The voices were almost deafening. Her hand trembled as she brought it to her skull. The voices were screaming at her to pull the trigger. To release everything. All of it.

"Hey!" A voice broke the trance. Trish closed her book and turned her eye to her sister. "We gotta go." Kate stood in the doorway, looking at her little sister with concern, "I swear, it's like you're in your own little world sometimes."
- - - - - - - - - - -

|| OPTIONAL
Everything below this point is completely optional, so if you don't wish to fill it in, please feel free to remove these sections from your application.
||
LIKES:
Books
Reading
Writing
Kate
||
DISLIKES:
Crowds
Dead Silence

||
APPEARANCE:
Trish is wearing a dark green hunting jacket over a black and white striped T-shirt. She also has on a pair of black jeans and plain white running shoes. She carries a black duffel bag filled with various things. Usually supplies, like food or water. Whatever books she has gathered over the years.
||
WHAT DO YOU WANT TO SEE HAPPEN TO YOUR CHARACTER?:
I have my ideas, but nothing for sure.