Post by Brie "Phthonus" Adams on Oct 23, 2013 0:43:53 GMT -4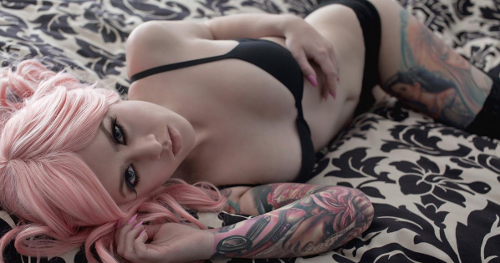 Envy stood back watching and listening to everything unfolding, her arms folding over her chest in a very nonchalant manner as she ran her tongue smoothly across her lips. This was proving to be interesting, and to say that it was not one of the biggest turn ons in the world to see her Gavin behaving like the predatory beast he was destined to be...well that would have been a lie. Never was he sexier than when he came alive like that and now more than ever she wanted to feel his hands upon her flesh as he pinned her against the nearest wall and fucked her. (Seeing as how Envy had absolutely no shame in fucking outdoors in the middle of this desolate city.)

Eyes locked upon Gavin as he moved, she could not help but note the way which his muscles rippled with every movement of his body, those shoulders tensing as the adrenaline began to pump through his veins causing the muscles of such to swell and broaden his already imposing size that much more. His arm lifting, her teeth would softly bite down upon her lower lip, having to fight back a little purr of utter delight as she noted that strong, muscular bicep pushing against the restraints of that still very wet t-shirt he was wearing. A t-shirt, which she might add, was plastered to his abdomen, outlining the finer details of his delicious abdominal muscles.

To be honest, there were no words to describe just how attractive she found that man to be. She had tried and failed many times, always feeling as though she was coming up short in her description. Her eyes flickering downward, she ran her gaze over his firm ass and the way those jeans clung to it thanks again to that rain. The strong muscles of his thighs and calves also apparent and well...her imagination filled in the oh so yummy blanks.

She was not allowed to linger upon her own lustful thoughts for too long though, the Reaver's voice booming over the groans of lessers that Envy kept tightly packed in the exit behind him and his...mutant. An irritated growl, being pulled from a daydream that she was not quite ready to surrender as her blue eyes shot toward him. In his hand, was that jacket, held out to them and being offered in order to make them go away. It was really cute, if you thought about it, but futile none the less.

Regardless, her hand shot out, TK wrapping about that coat and jerking it out of his hand and into her own. It was a brief, quick exchange as she looked over the material and ran her fingers softly against it. "Ah, why thank you. It would appear you are not as stupid as I had originally thought." She slung the jacket over her shoulder, clasping it with that little index finger and holding it there. "But see, this is what my Gavin chose. I, myself, have my aim set just a little bit higher..." Her gaze drifted to the child thing. "Or perhaps in this case I should say lower? Hmm, not entirely sure."

She shrugged, pulling that jacket back around and examining it as Gavin fired, hearing the rather feral roar of the other Reaver as a little smirk curled upon her lips. "That would be you getting shot. In case you missed it." A soft, rather amused chuckle given as she turned those cold eyes mixed with black toward the small, quivering and rather pathetic excuse for an Overmind. A little pout forming upon her lips she would softly crook her finger, beckoning the child toward her.

"You see that? Your Reaver is getting hurt already and mine has not even laid a finger on him. Now...if you were to come over her and talk with me, I could make that stop. I could ask my Gavin to cease his attack. I mean, we are both Overminds, surely we could work out a little deal without having to involve out Reavers. Don't you think?" She arched her brow, swaying that jacket back and forth and then, after a moment, casting Gavin yet another glance. "Darling, add a little higher and more toward the center this time. I am sure he won't be needing that." She nodded turning to lock her eyes on that child, testing her affection for the Reaver beside her, seeing just how easily it would play a part in this little tiff that had broken out.
[/blockquote][/color]
[/td][/tr][/table][/center][/color]