Post by Brie "Phthonus" Adams on Apr 25, 2013 23:38:57 GMT -4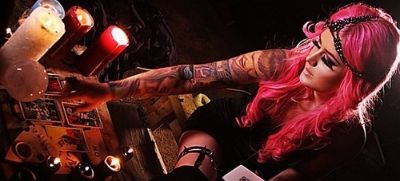 "I don't care how you do it, just do it." Irritation evident in her tone as those steely blue eyes locked upon the brown ones of the male Overmind who stood before her. She had had enough of his sniveling and to be perfectly honest, she was done. One simple task, that was all she had asked of him, and yet he could still not complete it. What was it going to take? Getting out there and doing it herself? Ha! The thought was down right laughable and she refused to spend even a second entertaining it.

"I am sorry Phthonus. I have tried."
[/i] The Overmind stood a good foot taller than her, and yet to look at him now, one would think that he had been beaten into submission. Beads of sweat had begun to form upon his brow, and his fingers twisted together in front of him, indicating his nervousness as coming face to face with the tiny pink haired Kakai, only to tell her that he had failed...again.
Growling softly, her hand shot forward and grasped the front of his collar, jerking him down to her level and causing him to stumble and struggle to catch himself before he toppled into her, knowing that if he did, it would be the last thing he ever did. "You have tried and yet you yield no results. Therefore, I feel as though you are not trying hard enough." She hissed the words, her face directly before his own as she narrowed those fiery eyes and growled lowly within the back of her throat.
It had been a long week, and she was exhausted. No, that was not the right word to use. Fed up. That was what she was. She had been put through hell with her Reaver, she had suffered through another Overmind breaking in and doing unspeakable things to her. She had been beaten, stabbed and left for dead more times than she cared to count, and on top of all of that, she had yet to get that pair of fucking shoes she had seen on that female Reaver she spotted the other day. They could be anywhere in this blasted city by now, and the chances of getting them became more and more miniscule with each passing day. The absolute last thing she needed now, was to be told that the task she had handed down to her little minion friend, was too difficult.
How hard was it to find the Kakai of Pride? Did he live under a rock? She thought not. No, in her mind she would only assume that Charles here, was being lazy and not looking hard enough. The very idea of him slacking on the job enough to set her into a rage fit the likes of which the world had never seen. There was something to be said about being the one to stand between the Kakai of Envy and something she wanted. Right now, that thing being a simple meeting with the elusive Kakai of Pride. One would think she was asking for the moon based upon the looks she kept getting and the exasperated sighs that she heard being issued behind her back.
"I have looked everywhere, I swear!"
[/i] His eyes widening as he felt that tiny grip starting to tighten more so about his collar, twisting just enough to cause his shirt to form a bind around his neck. She was done playing games, and she was done being nice. If she could not get what she wanted out of this particular Overmind, she would simply find another. The world was full of them these days, surely one of them would be competent enough to carry out such a basic task.
Of course, she could have just sent Gavin, as he most certainly would not have let her down. He never let her down. But the problem was, her precious Reaver had a bit of a problem when it came to Overminds of the Pride persuasion. That bitch he had been bound to ruining him toward that particular sin and making her life that much more difficult in the long run. Normally, it was not too big of an issue, as she just tended to avoid them all together, but on this one matter, she could not avoid it and furthermore, she did not wish to. Yet, at the same time, she did not wish to have him inadvertantly insulting the other Kakai before she even got a chance to meet the man. First impressions, they meant everything sometimes, and in their lives, their Reavers could very much cast a bad light upon them. Or at least, that is how she saw it.
Her free hand coming up, she would drag the nail of her index finger slowly along the male's jawline, pressing just hard enough to break the skin and watching as tiny red droplets formed upon his flesh. He tensed, but he did not dare jerk away. "Need I remind you what my precious Gavin will do to you if he finds out that you have attempted to bed me?" She practically purred the words as she tilted her head and drew her hand back, placing her finger between her lips and allowing her tongue to slowly encircle it and taste of that blood that had pooled beneath her nail.
"N-No! I will find him! I swear it!"
[/i] Her eyes cutting back to him as she jerked him forward just a tad bit more, close enough that her nose could brush against his and her lips could hover dangerously close to his own. That hand falling away, leaving her soft pink lips glistening with saliva as her head tilting a little more. "Then get it done. Now." A cool whisper against his lips, before pressing the softest of kisses upon such. Then, in an instant, her hand released his collar and the base of her palm slammed into his chest, thrusting him backward and once more forcing him to try and capture his balance. "Try the Necropolis, and so help me, if you fuck this up for me, I will see to it that you are chopped into tiny pieces and fed to the wolves! Now go!"
Not another word spoken as he would stumble backward away from her and then turn to head off into the city in a mad dash. He had been at it for days, and the only thing he had to go on, was that rumors told of Hybris to be both a sexually appealing man as well as intimidating. Other than that, his elusive nature seemed to be all there was to really work with. Sadly, in Envy's mind, that was enough and nobody changed her mind when it was made up about something. Nobody.
---
That had been what? Two days ago? No, it had not been that long had it? Her mind working over the time frame in her head as little feet carried her toward the Necropolis. The sun hung low in the sky, still enough to provide several hours of daylight, but not so much as to seer the flesh off of anything that walked beneath its glowing rays. Not that she really minded, only that she had fair skin and she didn't much care for getting hot and sweaty unless there was a valid reason behind such. Walking was not one such reason.
Clad in her usual black attire, she had on a pleated skirt that hung down to her mid-thigh, a matching halter top with pink paw-prints upon it that wrapped around from the right side, over her stomach and up across her left breast. Her boots, the same as she was prone to wearing, were made of black leather and they crawled their way up her calves and buckled just below the knees. Long pink locks falling in spiral waves down her back, dangling low enough to conceal her pert little rear as she moved. All in all, she felt that she looked professional enough, well perhaps save for the set of pink and black feline ears that perched atop her head, secured to the headband that she wore currently. What could she say? She was a fan of dressing outside the norm, if only because it distracted people from just how badly she craved to be like everyone else.
A few hours before sunset, that had been the proposed time she had sent forth when seeking out a meeting with Hybris and though she could have dilly dallied about and pretended to not know what time it was, prolonging the inevitable meeting, she did not. No, of all the Kakai, this was one that she did look forward to meeting. From her understanding, he was at least not as prone to drama and childish behavior as the others were. Not that she was completely innocent in that either, only that she saw her behavior differently than she did that of the other members of her station.
An absentminded gesture given to reach up and comb her fingers through her locks as she neared the entrance to the meeting place of all Overmind. She did not wish to come across as nervous, and though inside she could feel the emotion bubbling up within her stomach, she quickly tried to push it aside. She had more important things to be concerned about than something so foolish as nerves. This meeting was essential to her being what she had been sent back to this earth to be, the Kakai of Envy. Such lightheartedness would only result in another early death, and that was something she was most unwilling to give.
One final breath given as she stopped before the door, collecting her composure as she ran her eyes over the rather intricate structure before her. A few random images of her night with Patience occuring within her mind, thinking of the things that had transpired just on the other side of this door, and with them came a little grin that she just could not help. Still, now was not the time, nor the place for such foolishness. She could have her moment of idiocy when she returned home. Now was about getting down to the brass tacks of the moment and securing, hopefully, another "friend" amongst her fellow Kakai.
Little hand extending outward to press upon the door, listening to the sounds it created as it was forced open, allowing for her lithe form to slip slowly within the main room of the Necropolis. A quick flick of her tongue to her lips as she nudged the door closed, before turning around to allow her eyes to roam over the room, having only been here one other time, and that had been the night that she had first met Patience. Other than that, she had not stepped foot in this place. Yet, here she was now. All she could hope for, was that her message had indeed been delivered, and that her trip her would not be for naught. [/justify][/font][/blockquote][/color]
[/td][/tr][/table][/center]