Post by Azura D'Angelo on Apr 22, 2013 19:20:25 GMT -4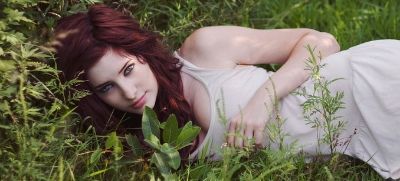 Darkened skies loomed overhead, now a mixture of night and the storm which continued to pour down upon them. Every now and then, brilliant flashes of lightning would illuminate the sky above, casting down its glow upon the petite red head as she moved slowly and hesitantly through the streets. She did not do so well at night, when the monsters of her imagination came to life behind every dark doorway and within every poorly lit alley. But she could not let that stop her, she could not let those pathetic and childish (or so Ian had called them) nightmares of her's stop her from finding Ian and reuniting him with the woman who currently walked alongside her.

Even now, all she could think to do was to make up for the words she had spoke out of anger and jealousy earlier, ignoring the rain that soaked through her dress and plastered her crimson locks to her cheek and neck. She looked a mess, and there was a slight shiver to her body as she felt the cold setting in. It was not really cold tonight, at least not by the standards she was used to, but as with most things, she was a bit of a weakling when it came to the cold as well.

"He should be just up ahead." She spoke up softly, wincing slightly at the way her voice broke through the silence of the night. The only other sound around them being that of the rain as it fell in rapid succession upon the ground around their feet. She could have perhaps suggested they wait until the storm had ceased, but she would have felt wrong in doing so. She could see how much Danika wished to see him, and though it hurt her to think of losing him, she could see how she would feel the same way should she have been in the other woman's shoes.

Lower lip trembling, she captured it with her teeth to still it. Not aware of the very faint blue tinge it had taken on. Of course, she would not have cared anyway. She had her mind set, and despite all her flaws, she did have a very strong will when it came to things that truly mattered, such as this.

Hazel eyes looking up at the building they now neared, recognizing it as the hospital that she had met Abigail in not that long ago. With every step that drew them closer, she felt her heart breaking a little more, and yet she did not let it show. There would be time for that later, when she was alone. Her intent being on bringing Danika to Ian, and leaving before he could yell at her for having upset the other Overmind.

Already she could hear his voice in her head, reminding her of how stupid she was and what a child she seemed to be. She did not know what that was exactly, but she had read that they were tiny versions of humans with a sense of innocence and purity about them. It honestly was the best description she could think of to describe herself. Not that she had ever really questioned it, seeing as how Ian was always right. At least in her mind.

"I will stay long enough to warm myself, if that is alright, and then I shall leave you two alone." She lowered her eyes to the ground, barely able to see her white boots in the ever increasing darkness, trying to conceal the pain that even she realized must be flooding her usually bright and innocent gaze. Damp locks spilling around her face as she did this, and no effort made to remove them.

Eventually however, she would be forced to lift her head as they neared the main entrance to the hospital. A hitch in her breath as for a split second she thought to lie and simply say that he was not here, that she had been wrong. If only she could bring herself to lie like other Overminds who she had met in the past. Then perhaps she would not feel as though every step was taking her one step closer to losing the only thing that meant anything to her in this world. It was like she could feel her world crashing down around her, screaming out in agony as it drew closer to its end, and yet there was nothing she could do to stop it.

Once more she felt the tears build within her eyes as she pushed open the door only to step aside and allow Danika to venture in first. Thankful in that moment that the rain that continued to soak her concealed her tears that had begun to fall. Then, as the other Overmind made her way inside, Azura would follow, making sure to shut the door quietly before continuing on down the hallway toward the base of the stairs that led up to the other levels.

It was a tedious journey, and an exhausting one at that. But she had gotten Danika here, and within moments she would have brought the two of them back together. Her heart aching more and more with each step, until the moment she found herself stopping on the same floor that she now knew Ian to be on. She could move no further, no matter how much she tried to will herself to do so. Her heart barely hanging on by a thread as she would draw in a deep breath and call out in a tone that could do nothing to mask the sheer heartbreak and pain that she currently felt inside. "Ian? I-I need to talk to you." Calling out just loud enough that he would be able to hear her, while at the same time offering a little tug to that bond she shared with him. Even if the act shattered ehr heart all the more, reminding her of what she would be losing if she lost him.
[/font]
[/td][/tr][/table][/center]