Post by Brie "Phthonus" Adams on Dec 2, 2013 16:44:56 GMT -4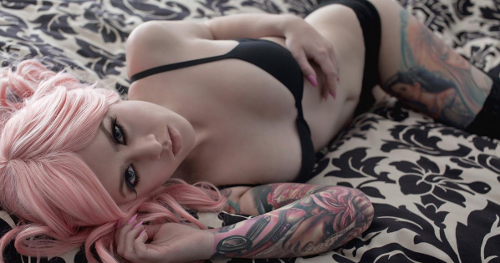 Envy sat there, eventually pulling her hand away and leaning back into her seat. Not because she really felt like she should stop but more because she was utterly lost on just what the fuck was going on. One minute it was Mammon showing his ass and being an arrogant prick to her Patience and the next, the other blonde across the table was telling her to let the Kakai of Wrath go it alone, a fact that wouldn't have been so bad if not for the fact that nobody short of Satan himself told Envy what the fuck she was going to do...Well aside from Gavin but even that was very, very limited.

No, she was the Kakai of Envy and she would do whatever the holy hell she wished to do whenever she wished to do it and some tall (because, lets face it, everyone was taller than her save for that mutant thing called a child) lanky blonde with nice tits wasn't about to stop her....from accompanying the other tall, lanky blonde with nice tits....Yeah...That.

She blinked, going rigid in her seat as her hands folded neatly within her lap. She knew better than to start something here and now, and though she very much wished to, she thought better of it, instead turning her focus toward Pothos who, from what she could tell, seemed to be getting far too much amusement out of this whole deal. It of course was something she would have tried to remedy had Patience not spoken again, this time bringing her up and stating that she could go along if she wished it. For a moment, Envy felt oddly out of place, as if she was some object in a really weird tug of war.

If I was in a better mood this might be kinky.

She grumbled mentally, slumping back into her seat and growing more than a little bored with everything that was going on. But then, she had not really been expecting what came next...that chair hitting the ground and a slight start coming from the tiny pink haired Overmind. Then, before she could even figure out what that sound had been...as her eyes had drifted toward the Reavers, eyes narrowing on Gavin as she read through his thoughts trying to distract herself....Charybdis was up and onto the table.

Shit...

It was the only thought she got to have before a blur of motion came from the corner of her eye and a rather clear, warning growl sounded from beside her as Gavin suddenly appeared. Had there been more room between herself and Patience she had no doubt he would have moved there instead, but as it stood there was no way that he could without knocking her out of her chair and therefore defeating the purpose of even coming over to ---

Oh, nevermind. Her vision of the Battle of the Blondes blocked out the moment Patience moved as her rather large and, at the moment, very imposing Reaver moved to place himself between her and the two women. A hint of blood in the air drawing her eyes downward toward his hand, noting the shard which had protruded and the blood that now dripped from his fingers onto the floor.

Hnnnngh! He was so sexy when he did that!

Wait..mind in the game Envy.

She blinked, tearing her eyes away from her Reaver's delicious backside and reaching up, a small, soft hand pressing against the lower portion of his back as delicate fingers drifted beneath his shirt and stroked along his flesh. It was the quickest way to calm him and right now, that was exactly what she needed to do. "Gavin.." She spoke softly, inching out of her chair and rising to stand so that she could tug upon his shirt as the women stormed out rather hurriedly. "Sit." She nodded toward the chair, beckoning him to take a seat before she would climb her way smoothly and gracefully into his lap.

He wasn't going to settle completely now and she understood that, and so she would put him in a position where he would be better able to shield her should anything happen he did not like. Waiting for him to do as told before she could curl into him slightly and then watch as Mammon too made an exit along with that Reaver that Gavin had been playing silly little games with.

Well then...that escalated quickly. Her mind still racing to catch up as she pressed her back into Gavin, pulling her hair around and over her shoulder so that it fell down her front. However, before she could even start to make sense, Pothos would burst out laughing, her brow arching as she completely disregarded the small child things words. She still didn't like that thing. At all. A slight shudder just at the fact it could speak racing down her spine.

Eyes drifting toward Pothos though, she would arch her brow slightly, reading through his thoughts and then, thanks to the ability of that one Reaver which had left, she would ever so casually TK her way right down into his pants. "Well...I am not entirely sure what that was about, but I feel that things have gotten a bit out of control. I am ashamed to say Father would be ever so disappointed in us." She nodded, her mind playing naughty little tricks on Pothos as her thoughts flashed images of all the many things she could image doing to him upon this very table.

Not that it showed in her face or even in her eyes which continued to look about at the remaining members of this council with the same hard, cold strength that she felt was expected of her. "Gavin..." A pause, the very same one that came any time a question concerning human behavior popped into her little head. "Is this what humans called soap operas? If so, I must say I am not very impressed with your culture. It is no wonder Father wishes to abolish the human race. Tch." She shook her head, curling into his lap a bit more and then falling silent as her fingers idly stroked over his arm in an attempt to keep him...calm...er....

All the while playing mental hand job on the Kakai of Lust.
[/blockquote][/color]
[/td][/tr][/table][/center][/color]