Post by Brie "Phthonus" Adams on Sept 30, 2013 23:20:54 GMT -4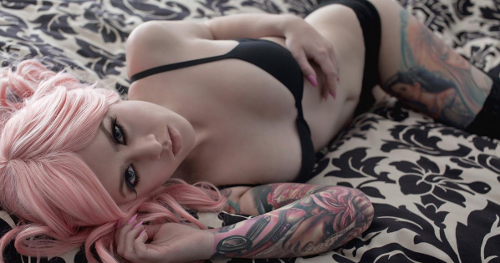 Envy had barely finished speaking when everything seemed to go to Hell. Patience's words both making sense and at the same time plucking upon a part of Envy that made her wonder if she should be insulted or not. She had done most of the work on her own when it came to the humans and yet she could understand that it seemed the others were not so inclined. Was she being insulted? She didn't...think...so. No, that was not directed at her...or so she thought, opening her mouth as if to ask but being silenced as Mammon then began to speak. Instead simply turning to Gavin as he spoke, blue eyes meeting his to indicate her confusion as to what exactly was going on and then nodding. Yes, she would like for him to find out more about that little mutant thing, but for now...she was a bit lost.

As the words rolled past his lips, Envy could not help but arch her brow slightly turning back to face Mammon and the rest of the table as she gave a slight nod of her head to tell Gavin that he could return to where he had been before. A mental thought given to how quickly things had begun to escalate. A glance given toward Mammon and then toward the rest of the table. Now, Envy didn't really know any of them and for the most part she tried to be impartial and just let her judgment be saved for when she had met them one on one and gotten to know them. Did she trust any of them? Not particularly, but if there was one that she did trust more than the others, it was Patience.

So needless to say, when Mammon began to speak, that tone seeming to take on a bit of a condescending or perhaps a more patronizing fashion, she could not help but feel herself getting a bit irritated. Oh, she grasped what he was saying, and the logical part of her mind understood the point he was trying to make...but the problem was that Envy so rarely thought with the logical part of her mind whenever her sin became involved.

Biting the side of her tongue hard enough to draw the taste of blood to her mouth, she straightened within her chair, casting another glance around the table to wait and see if anyone was even going to bother and try to say something to calm the situation. But of course, they did not. Instead they all just sat there looking at each other and letting Mammon speak to Patience...her Patience in such a manner.

Granted, it was the first time her sin had ever dared to make that distinction but in the light of what was going on, it felt just about as natural as if some whore was trying to berate her Gavin. The outcome would have been the same. One irritated, pissed off little Kakai of Envy. Oh how badly she wanted to say something, to smite him for being the pretentious bastard that he was, but she just bit her tongue harder and remained silent.

It wasn't that she didn't want to defend Patience, it was that she knew the sinner of Wrath could do that far too well on her own. She didn't need Envy to say anything. The woman was far more capable of verbal combat than Envy herself was. Still, that did not make her feel any better or relieve her irritation any...even when Patience began to speak back, commenting on how she would go and find this hideout like Mammon had suggested, correcting him for where he had screwed up the words she had spoken.

Having to fight the glare that she so badly wanted to shoot across the table toward the Kakai of Greed, she would simply settle back in her chair and allow her little hand to slip from within her lap. Sliding it to the side, beneath the table and out of the sight of those seated around them, she would let her palm press softly against the thigh of the other Kakai, slender digits curling softly to grasp her as she cleared her throat.

"I will go with Patience. I have heard details that may prove useful and besides, I could use for a friendly day out with somebody who knows how to have fun." She shrugged, leaning back into her chair, index finger caressing a slow circle about the other woman's flesh as her blue eyes turned toward Mammon for a moment and then scanned the other faces that surrounded the table, finally landing upon Patience herself. "That is of course if you wish me to." Her tone softening just a hint as she purred those words in that accent of her's.

She wasn't entirely sure that Patience would desire her company but she would offer it just the same. She knew that of all the people here she was the one less likely to get her head bitten off, but that did not mean she could just do whatever the hell she pleased. She would ask, be polite and graciously bow out if Patience said she would rather do it alone. She just felt the need to at least try and assert in some fashion that the woman beside her, in some way, shape or form was her's. Even if it was only confirmed in her head and her head alone.
[/blockquote][/color]
[/td][/tr][/table][/center][/color]