Post by Sonya Anderson on Aug 2, 2012 19:48:48 GMT -4
|| Sonya Lee Anderson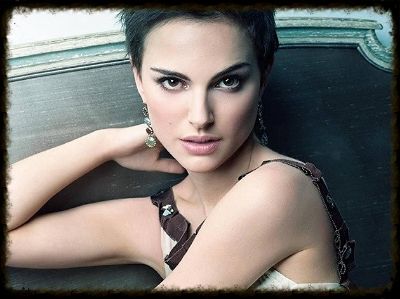 PB:
(the stunning) Natalie Portman
|| My name is
Heather Nicole Atkins, darling.
|| I am
18
years old.
|| I also play
a fuckton of characters.
|| I found the site through
Imaginative.
|| The best way to contact me is through
Skype (slythecat222), pm, or FB.
|| I have been role playing for
4ish years? I dunno
years and I am
literate, I suppose.
|| The password is
Excluded (Modified)
- - - - - - - - - - -
||
FULL NAME:
Sonya Lee Anderson
||
ALIAS:
The Butcher, Crazy Bitch, Dat Scary Mother Fucker.
||
AGE:
23 (only recently turned into a Reaver)
||
DoB:
May 4th, 1990
||
RACE:
Reaver
||
HUMAN STATUS:
When human she was a rogue, but now obviously N/A.
||
ABILITY:
Minor Telekinesis
------>Works only on relatively medium sized objects; aka no lifting buses. Can accelerate the speed of an object so it can cause more damage (for instance, if they were to fire a bullet and use their ability, the bullet would be able to pierce Kevlar.) Objects must be in relatively close range.
||
GENDER:
Bitch... of the bloodthirsty,vengeful, and batshit crazy variety.
||
SEXUALITY:
Sex is evil! Dx<
||
WEAPONS OF CHOICE:
In order to survive this chaotic world, one has to be able to use anything they can get their hands on. So she will be seen wielding many things as weapons. But Sonya does have a preference for knives, carrying a switch-blade, a couple of throwing knives she has collected over the years, and one big-ass butcher knife around with her, as well as a crowbar strapped to her back (she enjoys its bashing capability and how versatile it is. Much more effective than expected.) Sonya also wields a Tanfoglio T95 with a few magazines that she picked up off of her father in case situations get dire.
||
PERSONALITY:
Angry. Angry is the single best word to describe Sonya. She holds bitterness towards the human race that by far surpasses that of even her feelings towards the Lessers when she was a mortal herself. For years she was abused by her father, physically, emotionally, sexually, and she murdered him to save her sister and herself, only to have Claire killed by deranged and cruel rogues years later while they were surviving together. There is such terrible hate and rage tearing at her that it shakes throughout Sonya to her very core.

Sonya is blood-thirsty and very eager to destroy human-kind, the dirty race that ruined her entire life. She has a particular hatred towards most men, since she was used and hurt by them for so long. Her background has tipped her over the edge and she kills pretty much anything in sight, only holding herself back from Overminds and other Reavers (or, at least, she tries to since they are apparently on her side, which she holds little to no regard for.)

One of the only soft-spots she has is for children and very young women, being reminded of her little sister. If the female resembles her little sister enough, she may attempt to take the girl to safety, but for most she simply will not slaughter them like the others, sparing their miserable lives. Since Sonya had no one to look up to or support her throughout her life, ________, her Overmind, is the only figure that she does not immediately violently react to. He helps fill the void in her heart and soul in… strange ways, to say the least (but her life has never been normal and satisfying a rabid Reaver like her cannot be done with typical ways.) She is like his dog; very loyal, but every now and then she bites back.

Sonya is rather unstable and has trouble calming herself down and relaxing her body, always wanting to be on the move and slaughtering creatures. It is very similar to a defense mechanism. She is also very sleep-deprived from her constant activities.
||
HISTORY:
Sonya's life has never been easy. From practically the day she was born, it was a long, treacherous, and rocky road. Not only was she brought up in a tough neighborhood and into a low-income family, but her father was an abusive, alcoholic asshole who beat on her mother and occasionally her as a child. His mood-swings were violent and unpredictable, and Sonya and her mother went to the hospital more than once with bruises and broken bones, claiming they fell down the stairs or tripped and fell on the ground. When she was five, her little sister, Claire, was born. Sonya immediately felt close to her, wanting to protect her from violent world she was forced to grow up in.

Their mother grew ill and came down with cancer. The family already struggled before and they could not properly pay for the medical bills, which only made situations at home become worse with all of the piling debt. Eventually their mother died when Sonya was nine, leaving her to take all of the beatings and screaming-fits, considering she often times hid Claire and would make their father focus on her. Claire was all Sonya had and she swore to protect her no matter what, resolving deep down that she could take anything from her father for her little sister.

Little did she know that her already horrendous life would become complete and utter Hell when she hit puberty. At the age of thirteen when she started to develop, her father started a whole new kind of torture: rape and molestation. (To get a better insight and detailed account, read this, specifically post 2.) So used to the cries and begging as a kid from her mother behind closed doors, she always just figured it was the beatings. Was she ever wrong. Now her body was broken in even more ways than before, in even more pain. There were increases in bruises and sores in places she never had before. Just when she thought life could not get any worse, it just shoved it in her face and dragged her down. Eventually, the only thing that kept Sonya going was her little sister. All throughout her teen years, the girl had to endure the emotional, physical, and sexual abuse from her monster of a father, but she manage to pull through, although very struggled and painfully. Sonya developed an immense distaste towards alcohol, always smelling it on her father's breath when he did all of those awful things.

Over time, a fear began to gnaw at her gut. What if her life was like this forever? Would she ever be able to leave the grasps of her father? No one in the neighborhood tried to help them and their entire family was estranged from one another, so there was no one to help. Would anyone ever save Sonya or would she have to succumb to this every day for the rest of her life? Not only that, but worst of all, what about Claire? She could not protect her forever. While the older sibling took most of the damage, the girl got a beating every so often and, when she hit the puberty mark as well, Sonya noticed in horror how his revolting eyes would trail to the child, just like they did for her mother and her.

The spark of hatred first lit up then, when she was eighteen and Claire was thirteen. It was around this time that the first news started coming out about a plague going around, causing people to kill and eat one another. It was mostly contained, but each day grew worse and worse, to the point where now people had to stay in homes for safety, meaning her father was with them 24/7. The teenager found this disease interesting and, strangely, almost admirable. How she wished that she could break free with her sister from his evil place, to get away from it all, to kill him, their father.

One day when preparing dinner, Sonya heard screams and cries from her sister's bedroom and she felt her stomach drop. She had not been guarding Claire close enough that evening and now her little sister was about to go through the same Hell she had been living through for the last five years. Her dark eyes frantically glancing around the kitchen, trying to think of something to do in a hurried panic, she noticed the glimmer of the kitchen's butcher in the palm of her left hand that she had been using to cut up the food. Staring at it for a moment, her fingers gripped around the handle tightly and she knew what she had to do. Sprinting over to the small bedroom, Sonya tore her father off of Claire, told her to close her eyes and run, and stabbed him sixty-six times in the chest and stomach. Even though by the eighteenth time the man was dead, she could not help but continue to mutilate his body, over and over again. While it could never get rid of the memories and the things her father had done to her, her mother, and little sister, it was like payback for every time he forced himself on her. Covered in blood and flesh, Sonya cleaned herself up, took her father's gun, grabbed as many knives as she could (as well as the butcher knife she used), and went off with Claire.

Their world was already shit so the young woman was able to see the rest of the world crash down and bear through it. If anything, she excelled in this new world of chaos. She was durable from the abuse and hard, having her sister hide in safe-houses while she would slip through the dark (a skill she was good at since she would have to sneak from her father in order to get food when he would punish them, among other things) or the shadows and steal whatever they needed. Sonya quickly learned how to punish out damage to Lessers, evade them, and kill them efficiently when needed, all of that pent of anger finally useful. All things considered, their life was not too bad in this apocalyptic shithole.

Once again, though, everything change in Sonya's life when she turned twenty-two (or twenty-three). Claire, who she had taught the skill she learned herself, had been gathering supplies in one of the stores in 4th street when she was ambushed by a group of thug-like rogues, who raped and eventually killed her. Sonya quickly found out and became devastated. After nearly spending her whole life protecting her little sister, it was all for naught. She had been sexually brutalized like Sonya had been and then murdered, and all for what? For the few knives on her, a gun, and some food? No, it was not just that. Those men were drunk and bored, finding a poor, helpless girl alone on the street and attacking her as a source of entertainment.

At first Sonya was infuriated with herself for not being there for her sister, but something snapped in the young woman. It was not her fault. None of it was. It was all because of these evil men… no, just humans in general! No one ever did shit for them, other than abuse or ignore the two. They were treated like less than dirt. Even the Lessers weren't that bad compared to that kind of shit. At least they had the excuse of being mindless and hungry. But these people… these monsters had no good reason for hurting her and her sister! They were the evil ones, the bad ones! They all deserved to die for killing off her sister and ruining their lives.

Sonya's psyche cracked and broke apart, leaving her blood-thirsty and her whole body full of undeniable wrath. The female went out on a full-blown rampage, killing everything and anything in her path. She didn't care if it was Lessers or humans. No, if anything, she wanted it to be humans. They were all evil and deserved to die for their misdeeds towards her and her family. As she brutally killed anyone she came across, Satan began to whisper in her mind, confirming that she was right about her mortal race and offering her strength and power she could only dream off. The power to bring them all down. With a bloody-thirsty smile, Sonya agreed to the Devil's deal and became a Reaver. She quickly gained the power of telekinesis and uses it and her newfound strength to slowly pick of the humans, wishing them all to be dead.

Not too long ago, Jasper came before her, claiming he was her master, this creature called an Overmind. At first she thought it was ridiculous and wanted to destroy him for being an incompetent bastard, but she heard the voice in her head again and realized that it was all true. While at first she was very begrudging in serving someone, something that sounded all too familiar to her past, the female quickly grew fond of him, although she would not like to admit such a thing. She sees him as strong and the first and only figure in her life that can actually take care of her, something Sonya has not experienced in quite some time. The Reaver has developed a strong loyalty for her Overmind master, although she is prone to snapping back at him and throwing a few swings every once in a while when he messes with her hot-temper.
||
RP SAMPLE:
Dark hair, made almost black by the liquid dripping down from it, Sonya stared at herself in the mirror, chocolate orbs looking straight ahead. Brows furrowed and she glared forward at her reflection. She was soaked in blood, a fact that normally did not bother the young woman. But tonight it felt as though her whole body was prickling in revulsion, her stomach lurching. Even though she killed a group of eight human rogues tonight, brutally murdering them and making them scream in horror, the loss of her darling sister, Claire, did not feel any better. In fact, this evening the pain seemed to be screaming at her, Sonya's whole body aching and skull feeling like it was going to split open. Fingers gripped at her unzipped sweatshirt and tank, ripping them apart, clenching at her chest. It was as though her heart was about to explode from her ribcage. Sonya took a pained, startled gasped and stumbled backwards, practically kicking down the shower door. It had to come off. The blood had to go away! It was seeping into her. Those men were going into her, going to ravage her! The humans! The filthy, horrid humans were going to take her over!

The woman quickly turned the knob up all of the way, water immediately pouring down. Before long, scalding hot liquid pounded onto her face and body. It did not hurt though, not nearly as much as her body and fractured mind. She wanted all of the mortal blood to go away, for those men to no longer be on her. Was this what happened to her sister? To her poor Claire! Were they all over her like this?! Sonya let out a gargled scream, ripping out the remaining of her clothing and trying to scrub all of the crimson away with her nails, her only blood mixing along with it. Her wounds would heal as soon as another was made. The female's chest was heaving up and down rapidly, brown eyes filled with terror and rage. Why wouldn't they go away!? She eventually turned off the water and swiftly jumped outside, slipping and falling to the ground. Within seconds she was back up again, stumbling over to the mirror which was entirely fogged up. Sonya wiped her hand across it and gazed at her reflection, her mortified and wrathful expression growing. She was completely drenched, but she could still feel them in her long, dark hair. It needed to stop. Now!

All of the drawers in the room shot out and a couple of pairs of scissors and razors flew out of them, heading straight for her form. Tears were streaming down her cheeks and Sonya was clenching at her chest, hyperventilating. She was screaming, wanting it to all just go away. Strands of hair flew up and fell to the ground, the sharp blades hectically slicing at the locks, cutting it all off. Sonya clenched her eyes shut and covered her eyes, crying. She felt horrible, as if this pain would never go away. Eventually the Reaver heard several clatters on the floor at her feet. The female looked down and noticed all of the blades that had been cutting were on the ground. Her eyes slowly slid up and she stared at her reflection again, her brown orbs widening and the excruciating pain coursing throughout her body suddenly slipping away. It was all gone. Well, in fact, not all of it. But the dark hair was cut very short, only about a couple of inches in length in all. A pixie cut. Shaky hands reached up and her fingers ran through the practically non-existent locks. Sonya could barely recognize it was her in the mirror, but she knew it was. But it was as if she was anew. A smile suddenly tugged at the corners of her lips, a mixture of happy and completely and utterly deranged.

This meant a new beginning. A new life. No one else could hurt her. Not ever again. A soft chuckle escaped her throat that slowly grew louder and louder until it rang within the bathroom walls. She could smite them all.
- - - - - - - - - - -

|| OPTIONAL
||
LIKES:
-Killing
-Blood
-Bladed weapons, particularly knives
-Fighting
-Children, especially girls who remind her of her little sister
-Her Overmind
-Pretzels
-Chocolate
-Anything with a high caffeine content
||
DISLIKES:
-Sitting still
-Doing nothing
-Men
-Humans in general
-Lessers
-Being held back
-Liquor (*the smell, remembering her drunken father's breath)
||
APPEARANCE:
After having a meltdown and cutting off all of her hair, Sonya has decided to keep it short, for it is easier to clean out all of the blood and doesn't get in the way of fighting. She isn't picky about clothes, willing to wear just about anything. But she prefers jeans and sweats, for the easy movement and coverage. She also often wears a tank-top underneath a sweatshirt with a hoodie. Refusing to let sunlight get in the way of her killing humans, Sonya also will wear dark, sun-protective goggles. She also sometimes paints her nails black if she gets really bored and can't go out for some reason, since she always has to keep her mind busy.

She stands at 5'3" and has a small frame.
||
WHAT DO YOU WANT TO SEE HAPPEN TO YOUR CHARACTER?:
I just want to have fun being Jasper's Reaver… and then having all of the drama ensue when he eventually goes Vampyre. Oh yes, she's gonna hunt him the fuck down and try to tear him apart. >:D

Plots. Get some actual use out of her.